Never Have I Ever: Sheer Perfection
When I started watching season one of Never Have I Ever, I was pretty skeptical. From the outside looking in, the show seemed a bit childish, and sad, but boy was I wrong. Within the first five minutes of the first episode, I was in deep, and I couldn't stop watching till I had finished the first season, then finished the second. I quickly became obsessed with the characters, and couldn't help relating to their high school awkwardness and the struggle to be a good person. To my surprise, within this adorable, awkward, and silly show I found myself relating to the characters, and finding messages that made me feel seen.
Never Have I Ever follows the complicated life of Devi, an Indian American high schooler, struggling to juggle relationships, school, grief, and more. The show is created by the amazing Mindy Kaling and Lang Fisher. The series also stars some fantastic acting with Maitreyi Ramakrishnan as Devi Vishwakumar, Darren Barnet as Paxton Hall-Yoshida, Lee Rodriguez as Fabiola Torres, Ramona Young as Eleanor Wong, Jaren Lewison as Ben Gross, and Poorna Jagannathan as Nalini Vishwakumar.
After the first episode, I fell in love with the main character Davi. Throughout the story, she makes bad decisions, deals with grief, struggles with friendships, and does everything she can to try to make her way in this world. Her character, though made me cringe and feel second hand embarrassment at times, I couldn't help but relate to her. Her struggle for perfection, dedication for school, and her constant attempts at kindness made me feel seen, and I can only imagine the power of her character to the Indian American community.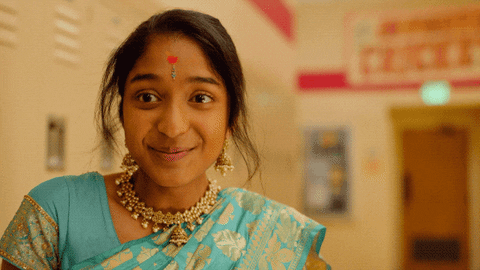 When I say I fell in LOVE with all the characters, I'm not joking. I loved both Paxton and Ben, and felt like they provide both examples of what a good relationship is, and what a bad one is. The girls, Eleanor and Fabiola, were also fantastic, switching between being great friends and rough friends in a perfect high school friendship fashion. Seeing the success of these main characters was exciting and made me feel insurmountable joy. Seriously, the story is so strong and gets you attached to these characters so much that their joy feels like your own.
Now, I can't leave this review without talking about the extremely attractive heart-throb Paxton Hall-Yoshida. His role was performed amazingly by Darren Barnet, but the character was also written perfectly, with a beautiful character arc, that ends with *spoiler* getting her eighties movie moment. Not to mention, any person who watches the series has to be drooling over him, and his many many shirtless moments.
The show is not only fun and entertaining, but it is also filled with messages. It addresses eating disorders, therapy, grief, dating, toxic relationships, friendships, coming up, the struggles that come with representing a community and more. This made this show, so much more than a show for me. It was also a place where I learned to be a better ally, better person, and a better friend. I literally recommended this show to everyone I knew, and hoped they would watch it too, and scream about success, and cry about disappointments, mistakes, and failures.
Never Have I Ever, also has some great LGBTQIA+ representation. The show even features one of the main characters realizing that she loves women, and her entire coming out story. Along with that, you get to watch as her friends navigate her new world alongside her, and help her find her way through.
Overall, this show was one of the most incredible shows I have ever seen. The show feels so true, so raw, while also being a hilarious diary of the cringey high school moments. I was attached to the show from the start, and I can only hope that there's a third season so I can continue with the joy. Seriously, give this series a watch, I promise you won't regret it.
(Seriously.. this is me nugging you to watch it... like NOW)